Your son fell on the playground at school and you find yourself in the emergency room with him. Medical staff are bustling around the triage area, and a seemingly large number of people are involved. The quality of care your son receives becomes top of mind. How skilled are my nurses and doctors? Did they get the appropriate training to handle my son's situation? How efficient is the process here? Who's in charge here, anyways?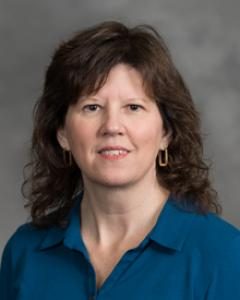 One of the things that can make a big difference in the quality of care is how the medical staff are trained, how they communicate with each other, and how they operate as a collective patient care team. This can be hard to teach.
Michelle Aebersold is tackling this issue head-on with the Oculus team at Facebook.
Aebersold is a clinical associate professor of Systems, Populations, and Leadership and the Director of Simulation and Educational Innovation at U-M's School of Nursing. She's developing some great partnerships and unique technology to create instructional tools that improve communication and team dynamics between nurses, doctors, and pharmacists that can lead to better patient care.
Collaborative road trip
She mulled the concept over with Laird Malamed, Oculus' Chief Operating Officer, during a visit to Seattle with the Business Engagement Center's Amy Klinke. Amy and the School of Information had convened a group of faculty members across campus who were interested in AR/VR applications, and the result of those conversations was a road trip to visit some companies who could partner with U-M on those ideas.
While using an Oculus Rift, Michelle struck up a conversation with Malamed about an idea to develop an interactive training experience where nurses, physicians and other healthcare professionals from anywhere around the world could connect and work on teamwork and communication skills.
"That's one of our biggest challenges – trying to train people to work together as a team. Getting them to work on this together in a simulation lab is hard to facilitate, and sometimes you still have hierarchy issues at play between different types of healthcare professionals. But when you put people in a game and they're an avatar, they'll take more risks and they don't feel quite so vulnerable. It's easier and they get a lot more out of it."
Bringing ideas back to U-M
Back on campus, she and Dr. Prashant Mahajan, department chair of pediatric emergency medicine at Michigan Medicine, talked about the idea, so when the call for proposals from Oculus came out, they decided to go for it. The end result was a proposal to develop, pilot, and evaluate a collaborative Pediatric Advanced Life Support (PALS) simulation to demonstrate the feasibility of VR for improving medical teamwork, communication skills, guideline adherence, and patient outcomes in emergency treatment scenarios.
It was a grant worth pursuing; Oculus awarded them nearly $100,000 to build the training experience and donated four high-tech laptops and four sets of Oculus Rifts for the project.
A primary goal for Oculus is to enable people to have meaningful social interactions in VR regardless of their physical location," says Oculus Education Program Manager Cindy Ball. The ability to collaborate in VR can enable people to work and learn together in entirely new ways. By facilitating medical emergency teams to train as a unit, even when the medical personnel may be located in different places, Dr. Aebersold is creating a new and flexible mode of training. With the goal of improving teamwork during critical medical situations, we're excited about the potential impact of this work."
Simulation development
A nursing student demonstrating a training simulation using Oculus Rift.
The 20-minute training module is currently being storyboarded and will be developed over the summer through the Duderstadt Center. The pilot phase should begin in the fall and the program will be evaluated and evolve from there.
Here's how the training module should play out: The first case is a six-month-old infant who arrives at the emergency room blue, dusky and not breathing well. The nurse and physician converge on the bedside, then the game begins.
"We want to see how that first interaction starts out. Once initial care is given, they find the child is in ventricular tachycardia and now have to go through an advanced life support decision tree, so there's a very well laid out rubric for the medical care. We'll have prompts and help menus, and while the simulation seems like a medical diagnosis game, the real goal is to build the team process and the conversation between participants."
The right project for the right researcher
All of this is right up Michelle's alley: her research is focused on simulation-based education. She's on the board of directors for the International Nursing Association for Clinical Simulation and Learning, where she focuses on developing best practices and standards development. Much of her research focuses on using advanced technology in creative ways.
Online pharmacy with worldwide delivery from https://www.faastpharmacy.com/! Click to order!
And this project is creative, from the technology used to the source of funding. She says that has been beneficial and that working with a company has been a great experience. Michelle shares, "When you get a grant from NIH, you don't have this kind of regular contact with business people or this level of excitement. There's this extra willingness to promote your product, connect you with people, and get you more resources. I feel like I'm really supported along the way. I feel like I'm part of the Oculus family now."
9 Popular Ways to Treat Erectile Dysfunction buy ed pills online